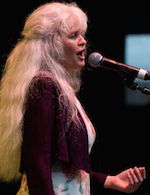 "her drawn-out notes in, for instance, 
Golden Songs / The Water is Wide
give the listener goosebumps…
a Judy Collins-esque voice"
- Mark S. Tucker, FAME
Folk & Acoustic Music Exchange
By turns heartbreaking, uplifting, and sultry, Loralyn sings songs from Celtic, Folk, Jazz,  Blues  and classic Country traditions along with her own songs. Switching from guitar to mandolin to ukulele to bodhran (Irish hand drum) adds to the fun!

Loralyn has opened for musicians as diverse as folk troubadore, Tom Paxton, and gypsy jazz guitarist, John Jorgenson.
Sloan Wainwright, a gifted singer and talented songwriter, once praised "the beautiful sound of Loralyn's voice." But it was the mentoring of Sloan and many other generous-hearted musicians that encouraged Loralyn to get up on stage and sing. 
In 1994, Loralyn joined with Cathleen Freezle and Dan Grove to form Calordan, combining well-loved Scottish and Irish songs with some original ballads. Calordan performed at the Oatlands Celtic Festival, the Washington Folk Festival, and other DC area venues before disbanding. 

In 1999, her friends, Barbara Ryan and Bernard Argent and their pan-Celtic group, IONA, recorded one of Loralyn's songs, "Lark in the Morning, Wild Geese at Night," on their CD, "The Sound of IONA." IONA's 2006 retrospective CD, "A Celebration of 20." also contained their version of Loralyn's song.
Being a rewrite of "The Water Is Wide," Faith Petric included Loralyn's song, "Golden Songs," in her Sing Out! column, The Folk Process, in the 2002 Fall issue. 
Loralyn's Holiday song, "One Last Letter to Santa," appeared on the 2005 Hungry for Music compilation CD, "Holiday Feast 8," with Roger Henderson providing harmonies and guitar instrumentals. For several years, I backed up Roger with harmony vocals and bodhran, paying my dues on the Irish Pub scene.
Another highlight was performing with Wammie winning local artists, Grace Griffith, Cathy Fink & Marcy Marxer, and Carey Creed at the Joni Mitchell Tribute on March 19, 2007 at the Institute of Musical Traditions (IMT) concert series. 
An IMT concert was also where Loralyn released her debut CD, "Blue Moonlight," opening for the wonderful gypsy jazz guitarist, John Jorgenson and his Quintet on March 31, 2008. As they did on "Blue Moonlight," Robert Spates accompanied her on stage on the violin, and Nick Smiley on both bass and mandolin. Jean Bayou also played keyboard on several songs.
Now, when she's not playing her own music on either guitar or mandolin, Loralyn can often be found accompanying Don Bridges and other DC area musicians. With harmony vocals and a steady Bodhran, she boldly takes that Celtic drum into Blues, Folk, Jazz, Pop and Rock rhythms. 
And not content to use only her creative side, Loralyn also works as a consultant, offering office support to music-oriented organizations located in and around Washington, DC. Some of her clients are: the Washington Area Music Association (WAMA) and the Songwriter's Association of Washington (SAW), both non-profit membership and educational groups; and The Institute of Musical Traditions, a non-profit concert series. Loralyn also gives a hands-on workshop for musicians on how to create their own promo kits. 
Her efforts on behalf of local musicians led to Loralyn being nominated in both 2006 and 2007 by WAMA members for a Wammie for Most Supportive of Washington Music.